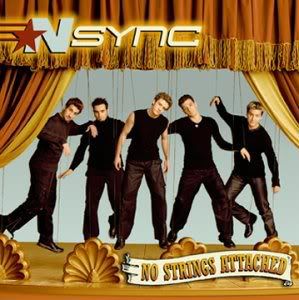 Gakked from

joeysdramaqueen
, who saw it at The Board o' Doom, aka the JJB -- No Strings Attached was released ten years ago today. !!! NSYNC holds the one and two spots for most albums sold in a week:
1
NO STRINGS ATTACHED 'NSync 2,415,859
2
CELEBRITY 'NSync 1,879,955
3 THE MARSHALL MATHERS LP Eminem 1,760,049
4 BLACK AND BLUE Backstreet Boys 1,591,191
5 OOPS!...I DID IT AGAIN Britney Spears 1,319,193
How fitting that the last day of JuC Day Week 2010 should coincide with this historic event. Hooray! To celebrate, I've included one of my favorite NSYNC videos behind the jump, one I love most for the choreography. The store bit is very cute, with the boys done up as their marionettes, but I'd love to have gotten a pure performance video as well. The color, cinematography, and art direction! The dancing! The
LEAN!
A bit o' Googling says that Darrin Henson was responsible for those iconic moves. MUCH, MUCH LOVE.
( Share my choreography lurve! Cleek it! )
JuC-centric post to come. :-)